Aimee Stewart is known for her brightly colored and fantasy designs. She has her popular "bookshelf" designs. Her designs can be found as puzzles, bedding, stationary and, of course, cross stitch patterns. Cosmic Marbles is a design with rainbow colored marbles. (Take a look at this Full Coverage Cross Stitch FAQ for more help stitching full coverage designs.)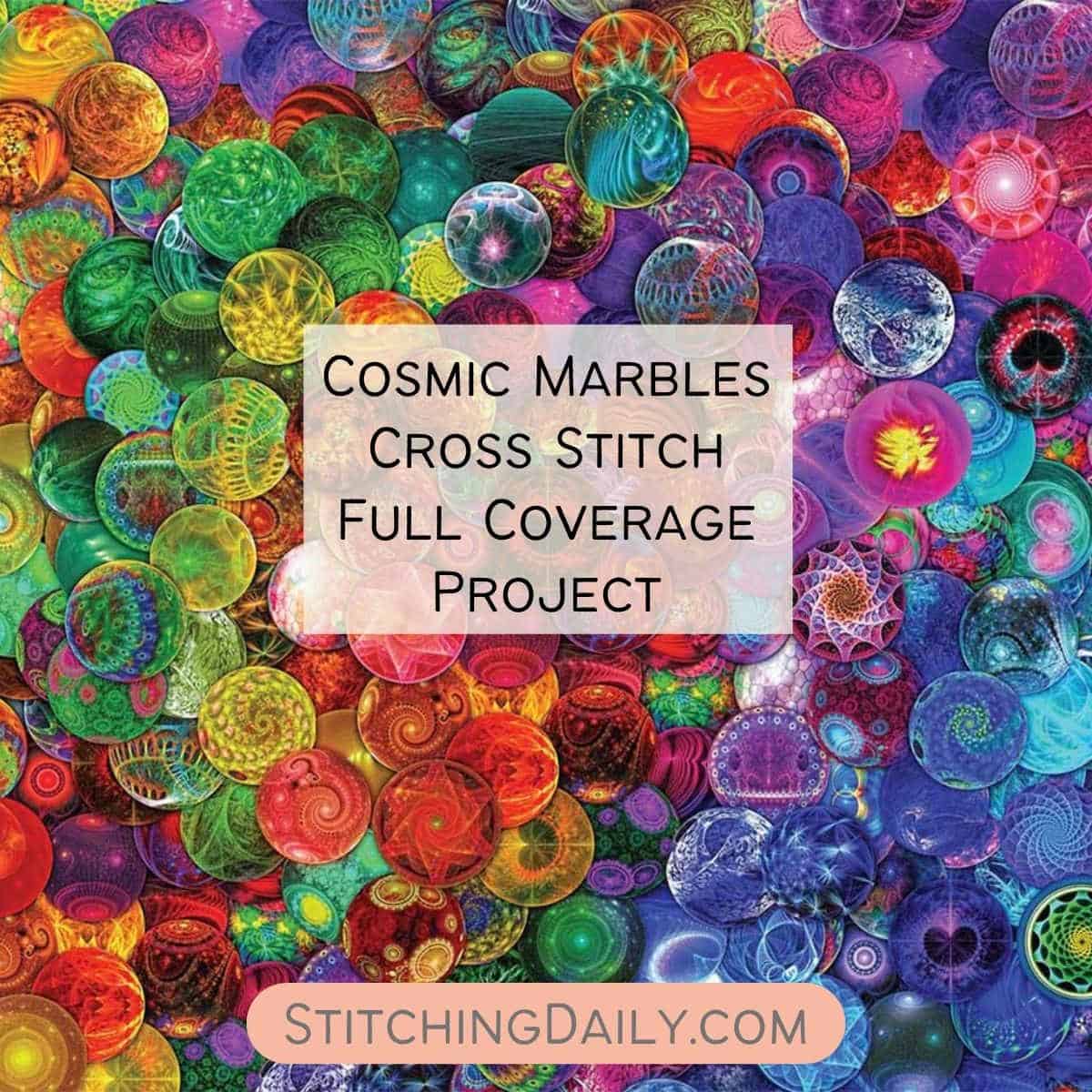 Jump to:
What I Like About this Cross Stitch Pattern
The colors of this design immediately caught my eye. This was my first Aimee Stewart cross stitch pattern I worked on. I love the way the colors flow through the pattern and work together.
Details About this Full Coverage Design
I am stitching the regular version of this chart. Cosmic Marbles is also available as Max Colors, Request A Size, Mini and Supersized Max Colors.
Size: 700 w x 500 h
Number of colors: 90
Materials I Am Using for Cosmic Marbles
I am stitching Cosmic Marbles on 18 count Aida. (This is usually where I buy my 18-count Aida for full coverage pieces)
I am using 2 strands of DMC floss.
How I Plan to Finish this Cross Stitch Design
I think for this one, as with all of my large full coverage pieces, this will be framed without glass over it.
Is This A Beginner Friendly Cross Stitch Design?
I think this might be a more beginner friendly full coverage piece. I don't think there's as much confetti and so there won't be too many color changes.
Goal for Stitching Cosmic Marbles
My goal is 500 stitches a day on this for the remainder of 2023.
Current Progress on This Design
March 31, 2023: 6,445/350,000 (1.84%) done
If you're currently working on this, let me know in the comments.
Stitch With Me on Cosmic Marbles
You can watch videos of me stitching on this project.