One of the first cross stitch patterns I ever purchased was the months of the year patterns by Hands on Design called, A Year of Celebrations. The pattern is actually a total of 14 individual cross stitch charts to uniquely celebrate each month. (There are 12 US designs, and two Canadian-friendly designs to stitch for July and November).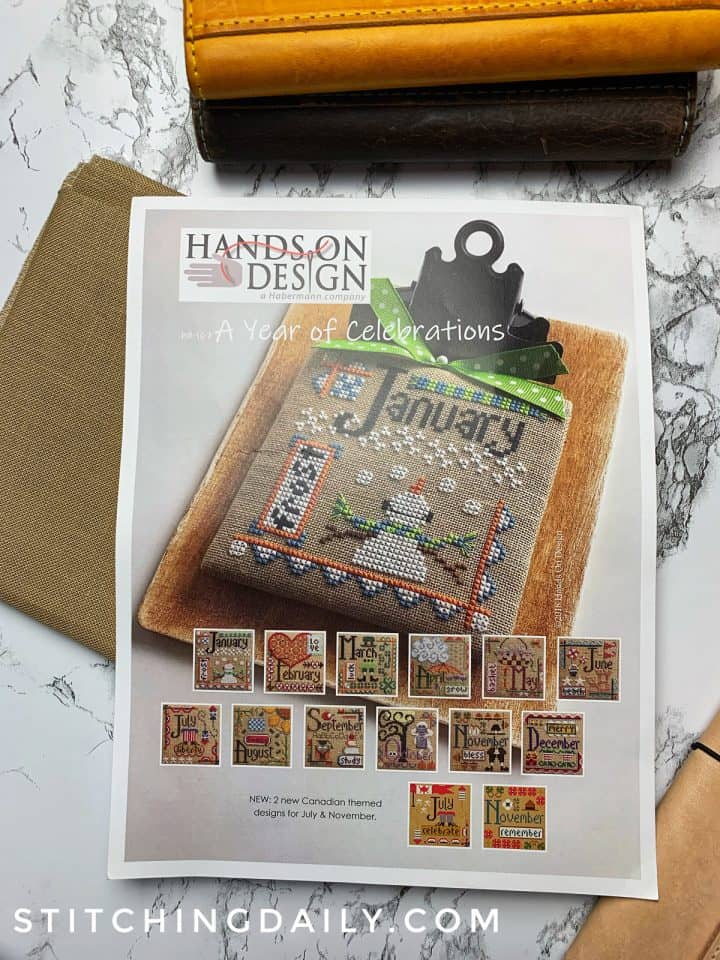 What I Like About This Cross Stitch Pattern
Hands on Design creates patterns with beautiful bright colors in designs that I consider cutesy and fun. I like the idea of one small finished piece for each month. Imagine some sort of frame or display that could be changed out each month with the different design from A Year of Celebrations.
Materials I Plan to Use for this Cross Stitch
I have purchased the called-for linen fabric which is 32 Count Dirty Belfast linen; however, I might stitch these on Aida. I'm still undecided at this point. I also have a tea-dyed evenweave fabric that I might choose to use. The main thing will be finding a piece of fabric that is large enough to fit all of the designs.
I also plan to use bits of whatever DMC floss I can find that's a close color to what's called for. I have a stash of unknown DMC floss, and this seems like a perfect use!
Some of My Favorite Aspects of the Design
I like the way the borders were designed so they aren't just the typical all four sides. There are different designs and some just border two opposing corners.
I like that each little pattern is a collage of images or icons that are representative of the month.
How to Finish This Cross Stitch Design
Cathy Haberman has a wonderful tutorial on her website with step-by-step directions to finish the project. Basically each little piece will be a flat finish and then you can also create the clipboard to display them on.
Is This A Beginner Friendly Cross Stitch Design?
Yes, I definitely think this is a great cross stitch pattern for a beginner. The size will make it a quick finish. I think each little monthly project will give a beginner a good opportunity to switch colors and try different designs.
Let's Start Cross Stitching
My plan is to work on A Year of Celebrations starting in March of 2023. I will start with stitching April's so I can display it in April. Then following months this is what my goal is.
Goal for Stitching A Year of Celebrations
| | |
| --- | --- |
| Month | Goal to Complete |
| March 2023 | April and May |
| April 2023 | June and July |
| May 2023 | August and September |
| June 2023 | October and November |
| July 2023 | December and January |
| August 2023 | February and March |
If you also have A Year of Celebrations in your stash and you've been meaning to start, I hope you'll join me. Leave a comment below and let me know if you'll join me in this stitch!